Back to Home
Book Advert
Title:
Redacted
Written By:
Tristan Hutchinson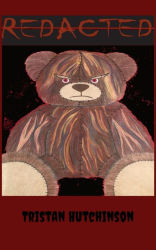 Available Formats:
Kindle, Paperback,
Series Name:
NA
From Price:
From $3.99
Genre:
Horror
Blurb:
The future of horror. Ally, a bright student with lots of potential, is faced with a living nightmare when she discovers a shrine dedicated to her on a bathroom stall at school. Unnerved by the photos taken without her knowledge, it's clear Ally is being watched by an unwelcome presence.
Coming Soon! Please check again in a few days.
No book links have been added yet - please check back later
Audio Book Preview
There is currently no Audiobook Preview Available for this title.
About the Author
Author Page:
Tristan Hutchinson
Bio:
Tristan Hutchinson is an author and empath living in New Hartford, NY. The son of a children's book author, Tristan still holds the same creative imagination he did as a child. His love of Stephen King, the Star Wars franchise, and other unique boo...... Read More
View Author's Page
Back to Home

BOOKiWROTE
BOOKiWROTE
Administration
Favourites
Follows
All Chat
Private Chat
BOOKiWROTE